The plan had been to get the bus delivered and then start the laborious task of removing all of the seats, removing the overhead racks (and cutting them up to get them out of the bus), stripping the walls, removing the lavatory, and tearing up the floors, including removing the seat mounting rails with a grinder. And then disposing of everything. Oh joy…
I was discussing the plan with the company that was delivering the bus and they mentioned they had a shop on the delivery route and would be willing to do the work, for a very reasonable fee, if they could work on it around their other customers. By that point, I had attempted to sell the seats and even offered to give them away, if someone would remove them. But, no takers… That left me with the prospect of removing everything myself, and then paying (quite a chunk) to dispose of all of it.
I compared the cost of disposal with the very reasonable fee they wanted to do the work, and decided that skipping that aggravation was worth it. Also, I have no timeline for the build, so that didn't cause any issue.
So delivery was delayed for a couple months… Then COVID… Then other priorities…
And finally: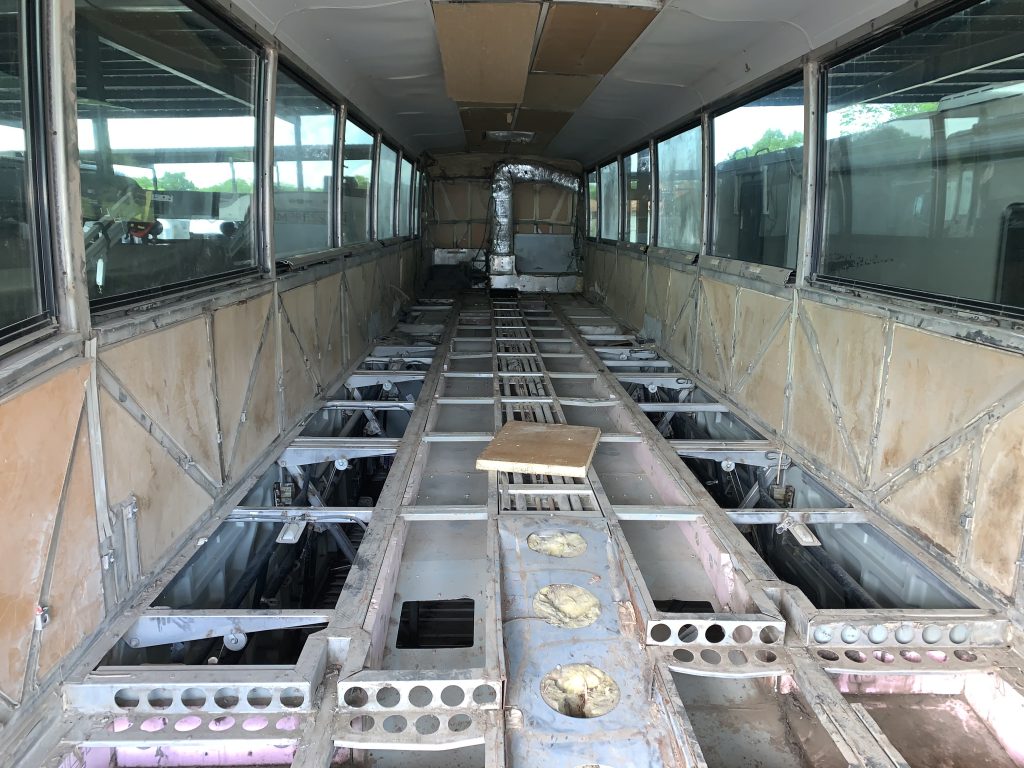 There is still a good bit of demo left. The ceiling panels have to come down and all the insulation needs to come out. There is also a good bit of grinding to do. Some rivets did not come out when things were removed. There are some welded brackets that held various passenger accessories. The previous floor was also glued to the substructure, so there is glue/wood residue that will need to come off so the new flooring lays smooth. That is all just long dirty work.
The thing I am not looking forward to is the removal of the lavatory basin. (This is where the "blue juice" and waste collected post-flush in the original lavatory. It is in the back left corner of the first picture.) It is built into the engine compartment and the passenger compartment, with the basin itself above the massive AC compressor and the rest of the lavatory system below. So, to remove it whole, I would either have to remove exterior panels or the AC compressor, neither of which is worth it. So, I will have to cut it into pieces to get it out. Nasty….
Onward…